Mentor and Sprint Electric - DC Drives
Sprint Electric DC Drives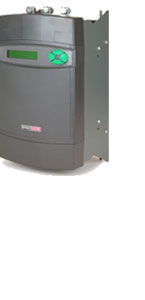 If you require a DC Drive then Transdrive offers the most comprehensive range of DC Drives from Sprint Electric.
Sprint Electric range of DC Drives start at 0.55kW 1PH analogue DC Drive and goes up to 980kW 3PH 2250A digital DC Drive and uses the very latest Sprint Electric technology to produce a world class DC Drive in a very compact frame size.
1PH and 3PH are available in two and four quadrant, the four quadrant DC Drive having the benefit of regenerative braking that absorbs power from the motor and regenerates it back into the supply.
Mentor DC Drives
Mentor MP is Control Techniques 5th generation DC drive and integrates the control platform from the world's leading intelligent AC drive, Unidrive SP.
This makes the Mentor MP the most advanced DC drive available giving optimum performance and flexible system interfacing capability.
Upgrading your control system
There are large numbers of DC motors in service throughout the world in various applications, the majority of which are easily capable of providing ongoing service and Transdrive are DC Drive specialists in upgrading your DC drive from old analogue technology to Mentor MP digital technology that allows you to maximise the motor performance, enhance system reliability and interface digitally with modern control equipment using Ethernet and Fieldbus networks. Downtime is minimised as only the drive needs to be replaced.
Transdrive here to help
If you are not sure which DC Drive best suits your application plase call Transdrive and one of our application engineers can guide you to the correct choice, with over 30 years of supporting DC Drives we are always happy to help.